The Best Place To Buy Or Sell Second Hand Marquees - As Well As Other Related Equipment
Search

Bagged and ready to go
In good condition
Price £90
12m marquee set of Ivory pleated Gables.
£90 VAT Free each In very good condition
Bagged and ready to go.
12m x 3m Ivory Pleated Reveal Curtain.
£100 VAT Free each 7x Ivory Pelmets 3m
3x 12m Trad Hip End
1x 3m Gable End
4x 3m Walls
3x 6m Walls
All items are ex-hire stock and now surplus to requirements. As such linings may have marks on them but should clean out. Sold as seen.
Joblot Consists Of:-
£400 +VAT 3 No. 30ft wide x 7'6" depth Pole Frame Roof linings
2 No. 30ft Wide Hip end Linings (pole frame)
1 No. 'Tristar' roof lining 9m
2 No. 4.5m Chinese Hat Roof Lining
£75 +VAT each For Armbruster Modular Marquees
For 20' x 10' marquee :- 10' x 10' Middle, 2 No. 10' x 5' Bells 2 sets like this @ £60-00
For 20' x 30' Marquee :- 20' x 10' Middle, 2 No. 10' x 5' Bells 1 set like this @ £80-00
For 20' x 40' Marquee :- 2 No. 20' x 10' Middles 2 No. 10' x 5' Bells 1 (Very Old) set like this @ £40-00
Total For these 13 items £180-00 + VAT
Ivory Pleated Linings Manufactured By Custom Covers & Leisure Interiors. Condition ranging from useable to good used.
£180 +VAT each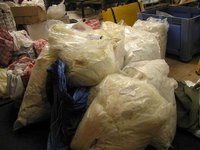 To fit cc / tt / roder spec marquees, 3m x 2.3m walls,
cc charge £46.80 + vat each at moment

Our winter sale price, ready to go at £42 each + VAT
new never used,

2oz IFR fabric, will match on to all your old cc stock

New, Ivory pleated wall lining.
£42 +VAT Have no idea on age as I required them in 2009 with a job lot I bought from the receivers.

Think they are made by Custom Covers and they are in very good condition. I have never used them as I don't have a Bell-end tent to connect to the end of my 9m


I have one pair of 9m (30') Wide bell-end Ivory pleated roof linings
£175 VAT Free This sale is for roof lining only (NO SWAGS or WALLS etc) - All six pieces are velcro joins and are pleated and in Ivory
Ideal for a farmer with a barn or a school hall as probably too faded for a marquee company to mix in with their Ivory stock
Roof lining only for a 12m wide Tectonics marquee - There are 2 x 12m x 3m Ivory Hip-ends and 4 x 12m x 3m Ivory middles
£200 VAT Free £70 Pair

Custom Covers linings
£70 VAT Free each £90 pair
Custom Covers linings
£90 VAT Free each £100 VAT Free each £130 VAT Free each Showing 61 - 80 of 88 items