The Best Place To Buy Or Sell Second Hand Marquees - As Well As Other Related Equipment
Search
Showing 1 - 6 of 6 items
Rigging eyelets these are proper professional grade poles fabricated by Anceschi in Italy
We even have (basic) structural calculations paperwork for them.
They could be used as king-poles for a variety of marquee structures.
Click here for more info and contact details......
9.2m long with domed top, hinge-plate base
£2500 +VAT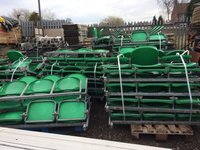 5,000
for standing room 1,500 set out as in rows of chairs or 1,000 guests sat at round tables.
Made by David Wine Tents in the USA out of flame retardant cloth to a very high standard.
Training and help with first installation is available (at a cost)
Click for more information and contact details
This marquee gives you 16,100 ft or 1500 Sqm of space which has a legal capacity of
---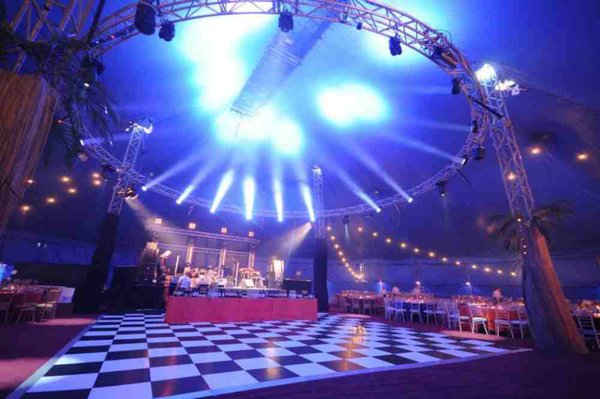 Absolutely perfect for circus, festivals or events. Over 1100m2 - standing capacity of over 2400 or 700 guests for a banquet, a large dancefloor and a stage no problem
Converted to external guys so there NO quarter-poles inside holding up the secondary peaks - giving you a MASSIVE open space inside. 10m height at the middle, 4m at the walls
13m long Italian style cupola (so it can collapse straight down on to the trailer without having to take everything apart) which makes set-up / take down easy. Made with Ferrari Precontraint 702 it'll withstand just about anything the British weather throws at it without complaining. It's completely weatherproof and 99% lightproof inside.
More.......
38m Miotti bigtop. Pearl white & Orange exterior, Blue interior -
£17500 +VAT ono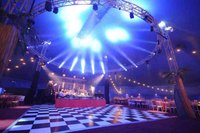 60x90ft blackout 2 pole tent with11ft side wall on purpose built 3.5t trailer.
Very good condition complete and ready to go.
£15000 including trailer

Bigtop 2
60x90ft red and yellow 2 pole tent with 9ft side walling on Ifor Williams 3.5t trailer.
Very good condition for its age,complete and ready to go.
£10000 including trailer.

Both tents can be 1 pole 60ft round.

Big Top 1
£10000 VAT Free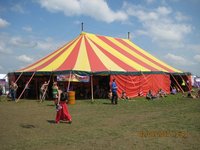 The Tent consists of two roof sections, 4 wall sections, 24 foot centre pole, 12 15 foot queen poles and 36 7 foot wall poles. Included are 36 ropes and stakes though the tent definitely benefit from ratchet straps, especially in high wind. Put up this way it is rock solid.

There are a few minor hole in the roof and one wall, easily patched and not structurally relevant.
This Big Top Style marquee has sat unused for some years and the time has come to reluctantly sell it.
£7000 ono VAT Free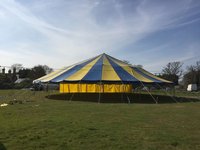 Showing 1 - 6 of 6 items