The Best Place To Buy Or Sell Second Hand Marquees - As Well As Other Related Equipment
Search
£55 +VAT £30 +VAT £12 +VAT £20 +VAT £110 +VAT £70 +VAT £380 +VAT Complete with storage bag
VAT to be added
12 m Hip end set of Pleated Ivory Linings - Very Good Condition
£500 +VAT All Linings can be viewed -Clearance Used Grade 'B' Linings. Viewing Welcomed.
From £15 +VAT 2x 4m x 4m Pagoda - Ivory - Pleated Poly
£100

£90 +VAT 15m by 3m
Made by Custom Covers
£200 +VAT · Fewer stock items – the same kit can be used in 10m, 12m, 15m, 20m, 25m, 30m marquees
· Easier to wash – a modular system so only dirty roof squares need washing and fit in smaller washing machines · Smaller storage requirements · Lower investment cost – fewer stock items required for max flexibility
· Easy to install · Greater access for Production rigging – sound and light find multiple access point useful for cabling
We have sold half this stock to a client... he wrote "I am very happy with the squares I purchased, used them over the weekend, brilliant system.
The benefits of this system include:

Everything is available as one lot only.
We bought these as part of a package deal with some frame and pvc, however all our existing linings are ivory so these don't fit in with our existing stock. All the linings are in good condition and one of the 6m roof sections has a stitched repair in the corner near the lining hooks. Otherwise they are ready to go and still in wedding condition.
£450 VAT Free ono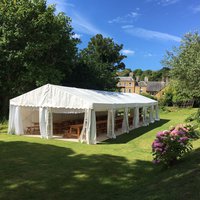 4m x 1m Roof - IVORY - Pleated Poly
4m x 5m Roof - IVORY - Pleated Poly
4m Gable End - IVORY - Pleated Poly
£150 +VAT Showing 41 - 60 of 99 items