The Best Place To Buy Or Sell Second Hand Marquees - As Well As Other Related Equipment
Search

4m x 1m Roof - IVORY - Pleated Poly
4m x 5m Roof - IVORY - Pleated Poly
4m Gable End - IVORY - Pleated Poly
£150 +VAT 2 x 9m x 3m White Pleated Roof Linings
Ex Hire Stock but still all useable
1 x 5m x 5m Pagoda White Pleated Roof Lining - No Walls
£200 +VAT ono Most sizes available
From 9m x 6m to 9m x 30m
Click for prices and contact info.
Pleated white linings for clear span marquees
£200 +VAT 3m x 3m
3m x 9m
3m x 12m
Available with or without walls.
2oz Pleated marquee lining
£250 +VAT From our hire fleet.
4x Middle sections
1x Pair of gables. (tent set)
Ex hire 12m x 12m Pleated Ivory Lining in good condition.
£700 +VAT 4x 6m x 3m Middle sections
3x Pairs of Hip Ends
Can make / buy the following sizes .
6m x 6m, 6m x 9m, 6m x 12m, 6m x 15m, 6m x 18m
Consists of middles and hip ends. See full listing for prices.
6m wide Ivory pleated linings
£520 +VAT 1x 3m x 3m Middle section
1x Pair of Gables 3m
Walls available @ extra cost.
3m x 3m Ivory pleated roof lining
£80 +VAT 2x 15m x 3 m Hips ends
7x 15m x 3m Roofs
20x white walls
23x 3m white swags
Hardly ever used and excellent quality – perfect for sports halls and schools
A complete set of 15m x 27m in 3m bays - Tectonics roofs and Custom Covers walls and swags . All you need for to line a marquee or sports hall
£2200 +VAT ono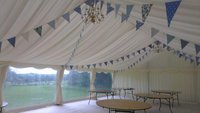 Showing 41 - 60 of 91 items