The Best Place To Buy Or Sell Second Hand Marquees - As Well As Other Related Equipment
Search
4x 12mt intermediate roofs mid ivory pleated plus 2 x cable ends all in usable condition
£60 +VAT each 2.72m high.
Been used to line a building hence the heavier weight to hide strong coloured wall.
2 X 6.1m
5 x 5m
Two at 1.8m free.
£9/m.
£420.00 washed and ready to go.
Pleated Ivory wall linings in William read 4oz satin.
£420 +VAT roder/roder HTS/ Custom Covers/Alresford Tech/Techtonics UK compatible.
For sale are linings/Gables or Hip/ custom covers make.
£35 +VAT each They would fit any 12m wide marquee or a 12m wide hall or barn that needed 'dressing' for a wedding/party etc.
They are joined together with Velcro and are compatible with other linings made by Custom Covers/Covers and Linings etc.
They are USED and therefore not perfect but a lot cheaper than new ones
15x 12m x 3m Pleated Linings, Ex-Hire. They are clean with no holes but do have snags here and there.
£140 +VAT each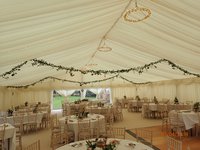 Various conditions. We advise you view before buying.
Roder 3m x 12m pleated ivory roof and gables.
£200 inc. VAT Various conditions. We advise you view before buying.
19 available £25.00 per unit, £475.00 for all.
Roder 3m x 2.3m pleated white walls.
£25 inc. VAT each £35 inc. VAT each All Linings can be viewed -Clearance Used Grade 'B' Linings. Viewing Welcomed.
From £15 +VAT 2x 4m x 4m Pagoda - Ivory - Pleated Poly
£100

£90 +VAT each Showing 1 - 20 of 38 items