The Best Place To Buy Or Sell Second Hand Marquees - As Well As Other Related Equipment
Search

Each loop includes : 2 x 12m beams, 2 x 12m legs, 1 x ridge knuckle, 2 x eave knuckles, 2 x steel base plates, 4 x Drop Nose Pins, 2 x Base Plate Pins inc. R-Clips
Price is per loop and is plus VAT
12m clearspan frame loops from Custom Covers
£650 +VAT £60 +VAT This is the aluminium only - no roof sheets and walls.
The aluminium is all original Roder UK apart from the roof and side purlings that have been customised by another company but fit together perfectly.
The frames are about 12 years old.
We sold the main part of the tent on and this is what is left. We have the feet, the legs, knuckles, roof beams, ridge connectors and associated bolts.
3 A frames of 12m Roder Wine Marquee on 3m bays for sale.
£2000 +VAT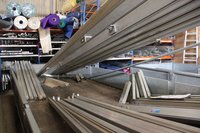 £700 +VAT ono Showing 1 - 9 of 9 items