The Best Place To Buy Or Sell Second Hand Marquees - As Well As Other Related Equipment
Search

1 PVC roof, 5 ground rails, 5 eave rails, 15 purlins, 5 Curtain poles, 5 clear max window panels (Like New), top apex joining plate with 4 pins and 2 bolts
(remember all the PVC sides and metal work are wider than standard and have special ends for coping with the angles)
This item is a 12m Bell End Conversion Kit (Custom Covers) and Includes :
Ball tension gutter - attaches to curtain rails
Kader to Kader Gutter - joins Kader eave purlins
Bullet Gutter - slides into Kader channels
Ring sides available, Infils - Width to suit
PVC Manufacturing
Marquee Roof, Gables, Clear PVC Gables & for Panaoramic Windows, Walling, Bags
Bespoke PVC Manufacturing.
Make a weather tight gutter between marquees or building and marquee
£50 +VAT each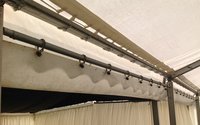 1 x 3m roof - old condition
£20 inc. VAT ono each 1x 9m roof - Old with a ripped kader
1x 9m roof - bad condition, ripped bungees and missing toggles.
£30 +VAT ono each 1 x 12m D-End with Georgian windows, White PVC roof and pleated Ivory linings.
£1500 inc. VAT ono each 1x old with a few scuff marks, no torn bungees
1x old, no holes, torn bungees and missing corner ring
1x Bad condition with a ripped kader
£60 +VAT each £25 +VAT ono each £10 +VAT ono each Made by Custom Covers
These roofs have not been used and are still in the original bags.
11x 25m x 5m Roder Flat Ivory Lining Roofs – Made by custom covers @ £620.00 plus VAT each
1x 25m tent set of Flat Ivory Gables – Made by Custom Covers @ £700.00 plus VAT
(additional tent set of gables available if required )
Selling complete to make 25m x 55m marquee.
Brand new 25m wide ivory flat lining roofs 5m bays – to fit Roder frame
£620 +VAT each Will fit standard Tectonics/Roder/Custom Covers
Selling because they are scalloped and we have moved all our kit over to bar tension. They are all used but still very hire-able.
- 15m Both Ends £400 or £225 for one end
- 12m Both Ends £350 or £200 for one end SOLD
- 9m Both Ends £280 or £150 for one end SOLD
All plus VAT
Tent Sets of Used Clear Gables
From £150 +VAT each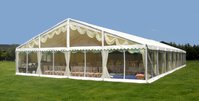 Fits 3m bay on 2.3m eave heght
Compatible with Custom Covers, Tectonics & Roder HTS Clearspan
Brand new, never used (ordered it by mistake)
Stored on a roll so has no creases.
One piece Fire Exit Georgian WIndow wall
£85 +VAT each Showing 1 - 20 of 187 items