The Best Place To Buy Or Sell Second Hand Marquees - As Well As Other Related Equipment
Search

Why buy second hand when you can afford Brand New?
All Crown Canopies come complete with everything you need including 2 walls with Georgian windows, 1 wall with a zip personnel door and 1 plain wall (quality 550g/m2 UK, fireproof certified, blackout PVC).
Extra storm securing kit free of charge (usually £97.00 RRP).
All Pagodas, Esprees and Star-Canopies come with a 5 year warranty on the framework.
Brand New Pagodas by Crown Canopies.
£741 +VAT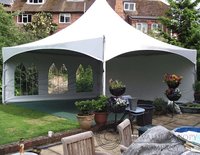 All walls and roof PVC in good condition and all linings in amazing condition. All linings flight cased.
We have a variation of walls, gutters, custom PVC.
We are happy to sell just framework in bays if required with or without PVC. Linings also available.
Click to see a price list.
We are selling off our entire marquee hire stock which includes 3m, 6m, 9m, and 12m profiles at almost any length.
From £3335 +VAT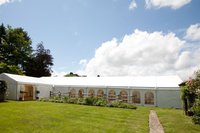 For Sale Two year old white LED Starlok Dancefloor (20x20ft) in excellent condition with additional panels, edging and cables.
Included in the sale are 4ft white LOVE letters and LED Mr&Mrs Markers with flower balls
This sale is the opportunity to take over a successful business. The customers that have booked with us are our main priority and we are looking for a buyer that would be able to honour all of the bookings and contracts. There is a significant potential income in the region of £12,000 from the bookings already secured.

3" outlet valve, complete with outer cap
Ideal for ballast weights for marquees and liquid storage
Previously, they have contained a food grade product. They have been rinsed out, leaving a slight trace of water inside
These IBC's/Tanks have never had chemicals in them. The only product they have contained has been a liquid food
We have for sale on a regular basis, 600 litre IBC/Tanks
£40 +VAT ono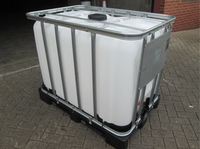 £250 including VAT Various conditions. We advise you view before buying.
Roder 3m x 12m pleated ivory roof and gables.
£200 including VAT With roofs, hip ends and 16no walls.
Various conditions. We advise you view before buying.
9m x 15m pleated ivory lining
£810 including VAT Various conditions. We advise you view before buying.
Roder 9m x 18m pleated ivory lining with roofs Gables and 18no walls.
£972 including VAT £756 including VAT Including roofs, gables and 16no walls.
Roder 6m x 18m Pleated Ivory Lining
£648 including VAT Reasonable condition.
6m Roder HTS London Pagoda pleated Ivory Roof.
£100 including VAT Great condition grey flight cases, loads of uses. Some have partitions and some don't however they are easily removed if not required. I have 12 available but listed price is for one case, selling individually or will discount if job lot required.
Ideal for lighting, cabling etc these are really well made cases.
33 inches x 34 inches x 31 inches tall.
£75 VAT Free ono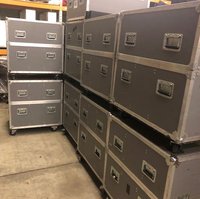 5 available.
Roder 2.4m x 5m Walls Panoramic.
£80 including VAT Total of 24m Starlight roof linings made up of:
4 qty 5m bays and 1 qty 4m bay plus black gable ends (the gable ends black out not starlight)
These linings were manufactured by Custom Covers and are in excellent condition. They come complete with original storage boxes and controller, ready to work. Linings have only been used a handful of times as you can see by the lack of wear on the tie backs and the control box. These are in exceptional condition.
Would consider exchanging for 9m starlight or other good quality marquee/ accessory equipment
Starlight made for 8m wide structure (they aren't currently but they could be adapted down to also fit a 6m)
£3000 +VAT ono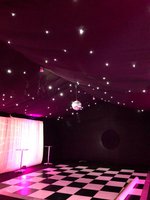 9 available
In various conditions.
Roder 5m x 5m Hat Roofs with pointed peak.
£125 including VAT Showing 41 - 60 of 2279 items